Buy a BabyLock Lyric at our sale price and receive a FREE Tailormade Gemini sewing cabinet! This is a $3500 value for only $1199!




Purchase a BabyLock Crescendo and receive a package valuing over $1000:
*Multi-Function Foot Control
*Ruler Foot
*Six Piece Ruler Set
*Three Piece Ruler Set
*1/4 Sole For Digital Dual Feed Foot
*Custom Riley Blake Quilt Kit
*24 Spool Thread Pack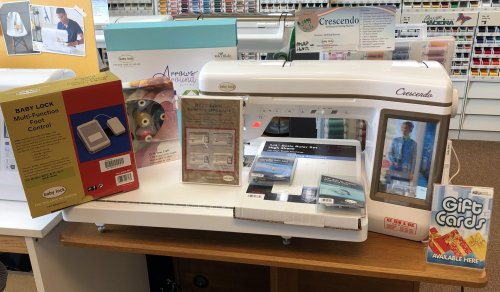 ~A-LINE MACHINES- WHILE SUPPLIES LAST, TAKE AN ADDITIONAL 20% SALE PRICES!!
~BL9 $99
~ANNA $199
~MOLLY $299







The New Baby Lock Solaris has a new 2 spool thread stand that easily snaps onto the machine and does not require the lid to be removed.


Any size of thread spool can be used with the new 2 spool thread stand and there are no extra steps to take.


With a throat space of 13" x 5" there is no project too big for the Solaris.


The Solaris comes with 14 different presser feet, four different embroidery hoops, and plenty of tools to help you in your sewing needs.
You can use one or two needle beams to keep your patterns aligned. Plus you can choose between red, green, or white for the colors of the needle beams, and 45, 60, or 90 degree angles.


The redesigned automatic buttonhole foot is equipped with a stabilizer plate to help feed thicker fabrics. Plus, the size of the buttonhole is determined by the Solaris' built-in camera actually scanning the button itself. And it can now make a buttonhole up to 1.77".


Of the 861 built-in stitches, there are 527 decorative stitches in the Solaris.


These are the 33 different fills that come with the Solaris.


Along with the needle beam guide is the ability to have a grid projected onto your project. The grid can be adjusted from 5mm to 30mm, and both the needle beam guide and grid have 4 different projection light levels. Plus, the length, width, and height are adjustable.


There is a new hoop in town, and it's a big one. The total embroidery field is now 10-5/8" x 16". The hoops have a new locking mechanism and silicone side grips for slip free fabric support.


The New IQ Designer has arrived. It has 90 Preloaded open, closed and region shapes. It also has 18 Different stitch patterns including running, bean, satin, no outline, chainstitch, blanket, blindhem, candlewicking and 10 decorative stitch outlines. There are 33 different fill patterns: regular fill, no fill, Stipple inside or around a shape, and 30 decorative pattern fills. You can duplicate and paste and edit preloaded shapes, adjust line, fill and stippling width, length and density properties, change the underlay, undo and redo options, and an outline stamp shape creation for Trapunto techniques. There are now 2 scanning modes for line drawings and illustrations.


The Solaris has IQVisionary Projection. This means it will project the stitch you have selected onto your fabric. The stitch selection, width, length and left/right shift is adjusted directly on the fabric by using the new Dual Stylus and projection technology.


With IQVisionary the Solaris projects your embroidery design directly onto the fabric. This allows you to see exactly where the design will be placed so you can adjust the position, angle, and size with the highest possible accuracy. Can you tell which design is the projected one?


The Solaris has WXGA IPS TFT LCD Color Touch Screen. What that basically means is the screen quality is the same as a computer tablet, it can be clearly seen at any viewing angle, and it has a high resolution. It is 10.1" measured diagonally, shows 16,777,216 colors, displays clock and date, has three times the processing speed, can play Mpeg-4 movies at display size of 6.2" diagonally, and has 1 gigabyte of storage exclusively for video.


The needle plate can be removed by sliding a switch. There are no more screws, which makes cleaning and oiling your Solaris much easier.



Promotions subject to change